AmniTec B.V. ROTTERDAM, Netherlands

AmniTec B.V. (formerly Senior Flexonics B.V., founded in 1985) is part of a group of five companies specialised in the manufacturing of high-grade flexible connectors such as hose assemblies, bellows and expansion joints.AmniTec B.V. strives for the highest customer satisfaction by ensuring quick and faultless delivery of quality products that resolve expansion, alignment and vibration problems in the pipe systems of industrial customers in Europe.
Presentation: www.amnitec.equip4ship.com
Address: Netherlands, ROTTERDAM, 3004 AG P.O. Box 10251, Abraham van Stolkweg 118
Contact person: Commercial Department ,e-mail, website
Phone: +31 10 2982121
Fax: +31 10 2982128

unselect all/select all
You have 0 products selected
Stainless Steel Hoses
Send enquiry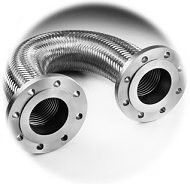 AmniTec stainless steel hoses have a large number of industrial applications, in which high demands are made on the absorption of movement, vibrations and misalignment.